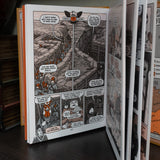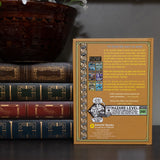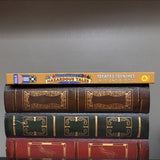 Treaties, Trenches, Mud, and Blood (Nathan Hale's Hazardous Tales #4): A World War I Tale
By Nathan Hale
Hardcover: 128 pages
Ages: 8-12
Grades: 3-7
Number four in author Nathan Hale's New York Times bestselling graphic novel series on American history, this publication cleverly explains complicated subject matter that helps young readers learn about the most well-known battles (and little-known secrets) of World War I.

In 1914, the world's biggest countries (as well as some of its smallest) were gearing up for massive upheaval. In battles over land, history, geography—each country went to war for different reasons and with different resources. Most ended up the same: sending their young men to fight for their lives in the mud, on the sea, and in the air, in a conflict that would eventually claim more than 9 million lives.

World War I, "The Great War," or "The War to End All Wars" was fought along thousands of miles of front-line trenches, with mechanized weapons, and dangerous new weapons like machine guns and mustard gas. It left behind a world that was scarred, angry, and traumatized and its horrifying lessons are still being studied today.

During World War I, many branches of the federal government used posters to urge Americans to support the war effort. In a time without radio, TV, or the Internet, posters were an inexpensive way to deliver powerful messages to millions of people. The government hired well-known artists to create designs that unified the American people. Posters continued to be published during World War II, and new posters are still in production. The National Archives holds close to 20,000 posters produced by military and civilian agencies.