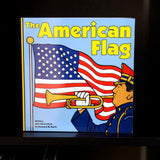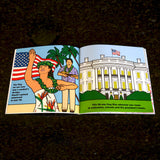 Storybook: The American Flag
By Howard M. Kurtz
Paperback: 24 pages
Ages: 5-8
Grades: Kindergarten-3
With bright illustrations and simple rhyming text, this early reader book about the star-spangled banner is overflowing with educational information and patriotic pride. Looking back at our flag's humble beginnings, we learn how the American flag has evolved and how we should treat it with respect. The American Flag is a great addition to every young patriot's bookshelf.

For more kids' book selections, please visit our Kids' Books Collection.

According to oral history, in 1776, George Washington, Robert Morris, and George Ross visited Betsy Ross at her upholstery shop in Philadelphia. Washington presented a sketch of a flag for Betsy to make comprised of 13 red and white stripes and 13 six-pointed stars.

On May 29, 1777, Betsy Ross was paid by the Pennsylvania State Navy Board for making flags. On June 14, 1777, Congress adopted the Stars and Stripes as our official national flag.