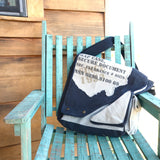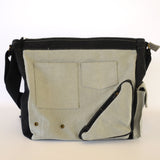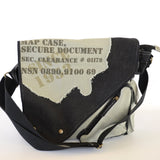 Messenger Bag Map
Soft, washed cotton canvas
2-inch adjustable shoulder straps
Large main compartment with zipper closure
Inside and front zippered pockets
Side snap pocket and two outside pockets
15 X 14 X 4 inches
Maps and charts have always played an important role in the planning and execution of military operations. Military maps, nautical charts, and fortification plans form a significant part of the cartographic holdings in the National Archives.

Inspired by the map bags used by cartographers in the field, this vintage map messenger bag is made of soft, washed cotton canvas for comfort and durability. It comes with a large main compartment with zipper closure; side snap pocket; front zippered pocket; inside zippered pocket; two outside pockets, and 2-inch-wide adjustable straps.

Starting with the Revolutionary War, the National Archives holds Federal military records, including historical, personal, and official correspondence regarding military uniforms and equipment designs.

In 1953 in a small loft on Great Jones Street in the Lower East Side of Manhattan, Milton Somberg began Rothco, then known as Morris Rothenberg & Sons. Over the years, Rothco has introduced numerous lines of clothing and product but at the root of each item is their military heritage, from their M-65 field jackets to their canvas bags. Even the folding camping shovel can all be traced back to Rothco's military surplus roots.