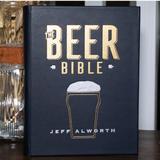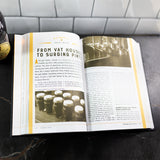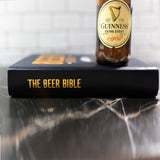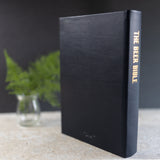 The Beer Bible
By Jeff Alworth
Bound by hand in bonded leather: 656 pages
6 X W 1 3/10 X 9 inches
Imagine drinking a cool beer with good friends and having this jewel as a conversation starter!

This special leather-bound edition is a paean to beer. It covers the history of how we got from gruel beer to black IPA in 10,000 years, the alchemy of beer -- malts, grains, and the miracle of hops -- and  varieties, introducing dozens of styles and hundreds of recommended brews, which have been divided into four sections -- Ales, Wheat Beers, Lagers, and Tart and Wild Ales -- each described in mouthwatering detail.  With interesting notes on how to read a Belgian label, the talk of two Budweisers, porter, the first super style; and what exactly a lager is, this book is all about the pleasure of beer. You don't merely taste it, you experience it.  

Over the course of our history, Americans have engaged in debates about alcohol and its place in our society. Government programs and policies have ranged from promoting drink-related industries to warning of the health dangers of drinking and driving, to outright prohibition of alcohol manufacturing and sales. Few issues have generated such passion among citizens in addition to government interest. Alcohol-related records in the holdings of the National Archives--posters, government-created films, patent drawings, artifacts, and petitions--explore the surprising role of the federal government in regulating, promoting, investigating, and prohibiting alcohol production, sale, and consumption.