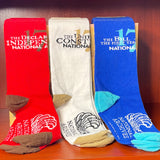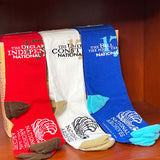 Charters of Freedom Bundle of Socks
National Archives Store Exclusive
Mid-calf crew sock
Unisex
Mens size 6-11, womens size 7 1/2 -12
Made of 70% cotton, 28% polyester, 2% elastic
Machine wash cold, dry inside out
Offered here as a bundle, these lightweight socks will give you something to think about each day as you put your outfit together. Sold as a collection of socks that celebrates each of our founding documents, they make a great gift for historians, patriots and everyone who has a sock drawer. They are also available as individual pairs of Declaration of Independence , U.S. Constitution and Bill of Rights socks.

Drafted by 33-year-old Thomas Jefferson between June 11 and June 28, 1776, the Declaration of Independence is the nation's most cherished symbol of liberty. It was adopted by the Continental Congress on July 4, 1776, and announced that the 13 American colonies, then at war with Great Britain, regarded themselves as independent states and no longer a part of the British Empire. Instead, they formed a union that would become a new nation: the United States of America.

The U.S. Constitution is the supreme law of the United States of America. The Constitution originally consisted of seven Articles. The first three Articles embody the doctrine of the separation of powers, whereby the federal government is divided into three branches: the legislature, consisting of the bicameral Congress; the executive, consisting of the President; and the judiciary, consisting of the Supreme Court and other federal courts.

On September 25, 1789, the First Congress of the United States proposed 12 amendments to the Constitution. Ten of the 12 were ratified by three-fourths of the state legislatures on December 15, 1791. The ratified Articles constitute the first 10 amendments of the Constitution, or the U.S. Bill of Rights. In 1992, 203 years after it was proposed, Article 2 was ratified as the 27th Amendment to the Constitution. Article 1 was never ratified.