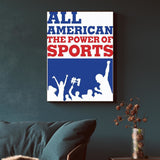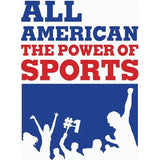 All American Canvas Print
National Archives Store Exclusive
Printed in the U.S.A.
16 X 20 inches
Join us as we pay homage to the power of sports! We are delighted to offer our tribute to the All American: The Power of Sports exhibit with this exclusive canvas print. It is finished with a high contrast effect in archival ink so you can hang it with pride and show your support for the unifying power of sports.

Within the National Archives' holdings are numerous records related to sports. Sports have power. They unite people, teach values, and inspire hope and pride. In the United States, sports have powered efforts to bring citizens together, shape them, and project a vision of what it means to be American. But sports convey power to athletes too— power to break social barriers and protest injustice.

All American

explores the power of sports to embody our national ideals and the power of athletes to challenge us to live up to them.



The exhibit is now open at the National Archives in the Lawrence F. O'Brien Gallery in Washington, D.C., and will be on display through Sunday, January 7, 2024.