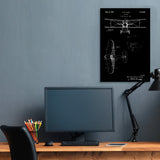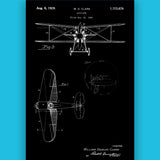 Bi-wing Airplane Canvas Patent Print
Printed in the U.S.A. on canvas with archival ink
16 X 20 inch patent print
Restored and digitally enhanced while maintaining the integrity of the original document
Fly high in your office, home, or airport with this bi-wing airplane patent, elegantly printed on canvas with archival ink. With a high contrast finish it brings character and atmosphere.

"The principal object of my invention is to provide a rigid biplane wing structure so arranged as to improve the vision of the pilot, and at the same time to incorporate within the structure the most desirable aerodynamic characteristics."

The patent act of 1790 established the rules for submitting a patent application. Each application had to be submitted with specifications, a patent drawing, and if possible a model of the invention. Eventually, models were no longer required.

The National Archives holds nearly three million patent case files from 1836-1956.