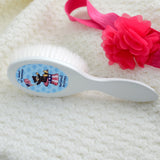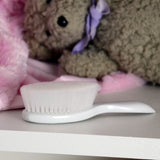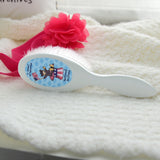 Teddy in Hat Soft Baby Brush
clearaNational Archives Store Exclusive
Made in the U.S.A.
Soft nylon bristles
This is a sale item, no further discounts apply and it is non-returnable
Soft fibers that are gentle on baby's scalp make this brush a lovely gift for the newest arrival. The cute teddy character waves the red, white, and blue and reminds us of every American's inalienable rights.

Preeminent Washington political cartoonist Clifford K. Berryman is credited with introducing this lasting symbol into the American consciousness. In 1902, President Theodore Roosevelt famously refused to shoot an old bear during a hunting trip. In his drawings Berryman transformed the old bear into a cute, cuddly "teddy bear"—named for the President. The image not only became a common symbol representing Theodore Roosevelt in Berryman's cartoons, but also gave rise to the popular stuffed teddy bear. After Roosevelt left office, Berryman continued to use his lovable teddy bear to represent his personal point of view.

By some estimates, Berryman drew over 15,000 cartoons in his lifetime and his work was formally recognized in 1944 with a Pulitzer Prize for editorial cartooning. In 1949, President Harry Truman honored Berryman with a well-deserved compliment: "You are a Washington Institution comparable to the Monument." Approximately 2,400 of the Berryman cartoons are now part of the official Records of the U.S. Senate housed in the Center for Legislative Archives. Since the First Congress in 1789, the records of the U.S. House of Representatives and the U.S. Senate have documented the history of the legislative branch. These records remain the legal property of the House and Senate, but are preserved and made available by the Center for Legislative Archives at the National Archives.