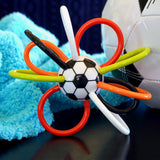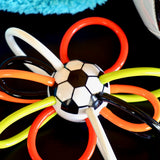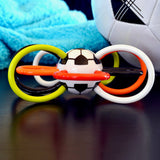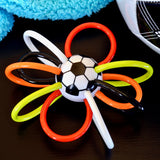 Soccer Winkel Teether
6 X 2 ½ X 5 inches
Ages: 0+
Polyurethane
Surface wash only: do not submerge in water, boil, or steam clean
Easy for little hands to grasp and clutch, this soccer winkel teether is perfect for newborns and teething babies. Made from polyurethane, this mesmerizing maze of soft plastic loops can be safely refrigerated to provide relief for sore gums. A soccer ball rattle in the middle of the toy will help babies explore sound cause and effect. Suitable for ages up to two years old, this toy is bound to cause more than just a dribble.

Traceable history of the soccer shoe dates to the 1800s. Players hammered metal tacks into the soles of steel-toed work boots for traction. Eventually, football laws did away with the boot and replaced it with the slipper-shoe, called "soccus," and for once, players' feet began to look alike. Rounded studs or "cleats" could be inserted into soles for grip. Throughout the decades, improvements to soccer cleats were made and patented.

The patent act of 1790 established the rules for submitting a patent application. Each application had to be submitted with specifications, a patent drawing, and if possible a model of the invention. Eventually, models were no longer required.

The National Archives holds nearly three million patent case files from 1836-1956.