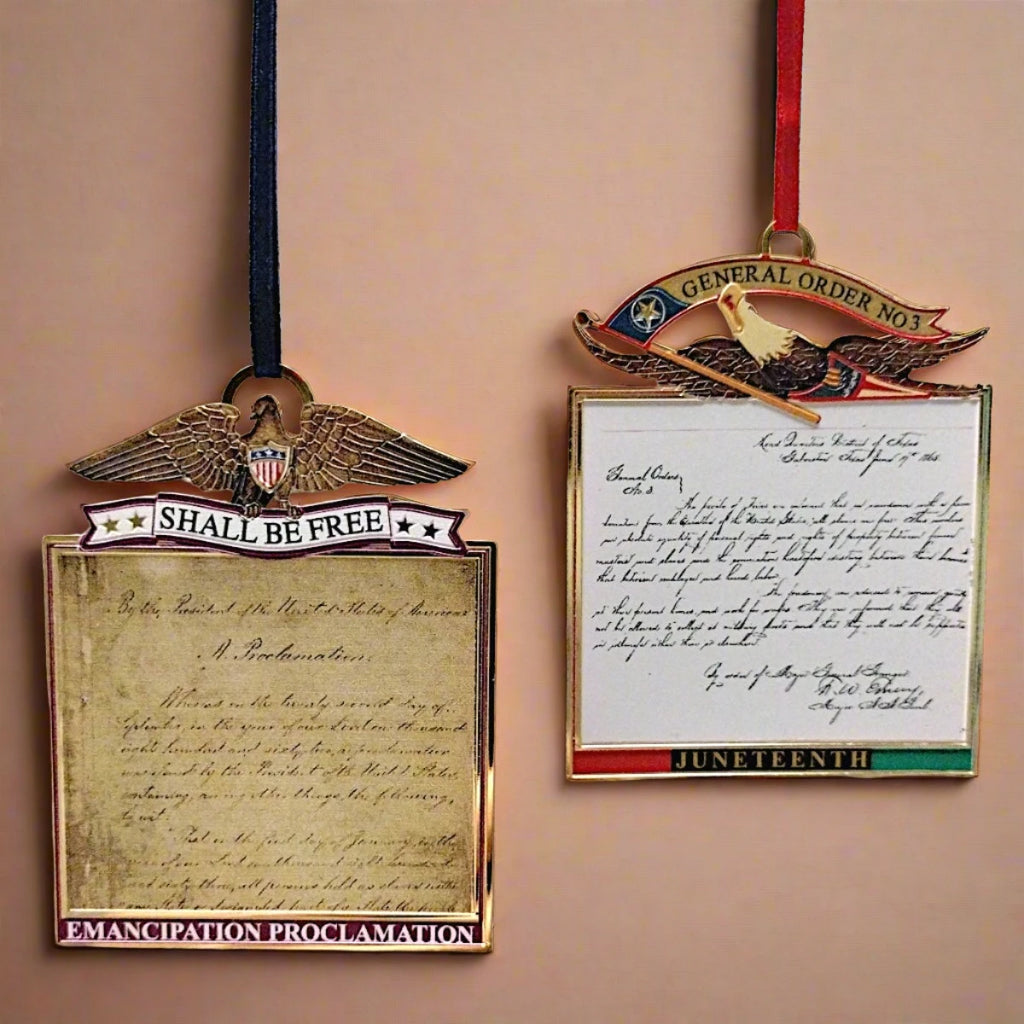 Emancipation Proclamation and Juneteenth Order Ornament Bundle
National Archives Store Exclusive
Made in the U.S.A.
Solid brass, electroplated with non-tarnishing silver finish, giclee print
2 ½ X 3 inches each
Gift boxed
Exclusive to the National Archives Store, our detailed and vividly colored brass ornaments are made in the United States. Depicting the handwritten record of General Order No. 3, and a section of the Emancipation Proclamation, each is a profound reminder of our nation's important history. We think these wonderful and distinguished decorative pieces deserve to be shown at any time of year. Bundled as a set, they make special gifts and collectors' items.

President Abraham Lincoln issued the Emancipation Proclamation on January 1, 1863, during the American Civil War, formally proclaiming the freedom of all slaves held in areas still in revolt. The Proclamation invited black men to join the Union Army and Navy, resulting in the enlistment of approximately 200,000 freed slaves and free black people before the war's end.

Although the Emancipation Proclamation did not end slavery in the nation, it placed the issue squarely on top of the wartime agenda. It added moral force to the Union's cause and was a significant milestone leading to the ratification of the 13th Amendment to the Constitution in 1865, formally outlawing slavery throughout the nation. The Emancipation Proclamation linked the preservation of American constitutional government to the end of slavery. It has become one of our country's most treasured documents.

The original handwritten Emancipation Proclamation is preserved, protected and held in trust by the National Archives.

On June 19, 1865, two and a half years after President Abraham Lincoln's historic Emancipation Proclamation, U.S. Maj. Gen. Gordon Granger issued General Order No. 3, which informed the people of Texas that all enslaved people were now free. Granger commanded the Headquarters District of Texas, and his troops had arrived in Galveston the previous day.

This day has come to be known as Juneteenth, a combination of June and 19th. It is also called Freedom Day or Emancipation Day, and it is the oldest known celebration commemorating the end of slavery in the United States.

The official handwritten record of General Order No. 3, is preserved at the National Archives Building in Washington, D.C.