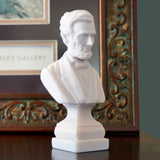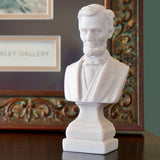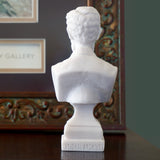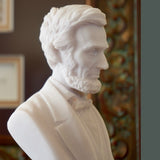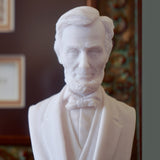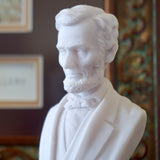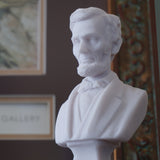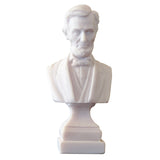 Abraham Lincoln 6-inch White Bust
Made in the U.S.A.
6 inches
White polystone
Commemorate President Abraham Lincoln, the former Illinois lawyer and Congressman who ensured the strength of his Republican Party, issued the Emancipation Proclamation, guided the nation through the Civil War, and succeeded in preserving the Union. The Lincoln portrait bust sculpture is a wonderful gift to decorate a home, office, or library.

President Abraham Lincoln issued the Emancipation Proclamation on January 1, 1863, during the American Civil War, formally proclaiming the freedom of all slaves held in areas still in revolt. The Proclamation invited black men to join the Union Army and Navy, resulting in the enlistment of approximately 200,000 freed slaves and free black people before the war's end.

The original hand written Emancipation Proclamation and many other letters, photographs and Lincoln records are preserved, protected and held in trust by the National Archives.