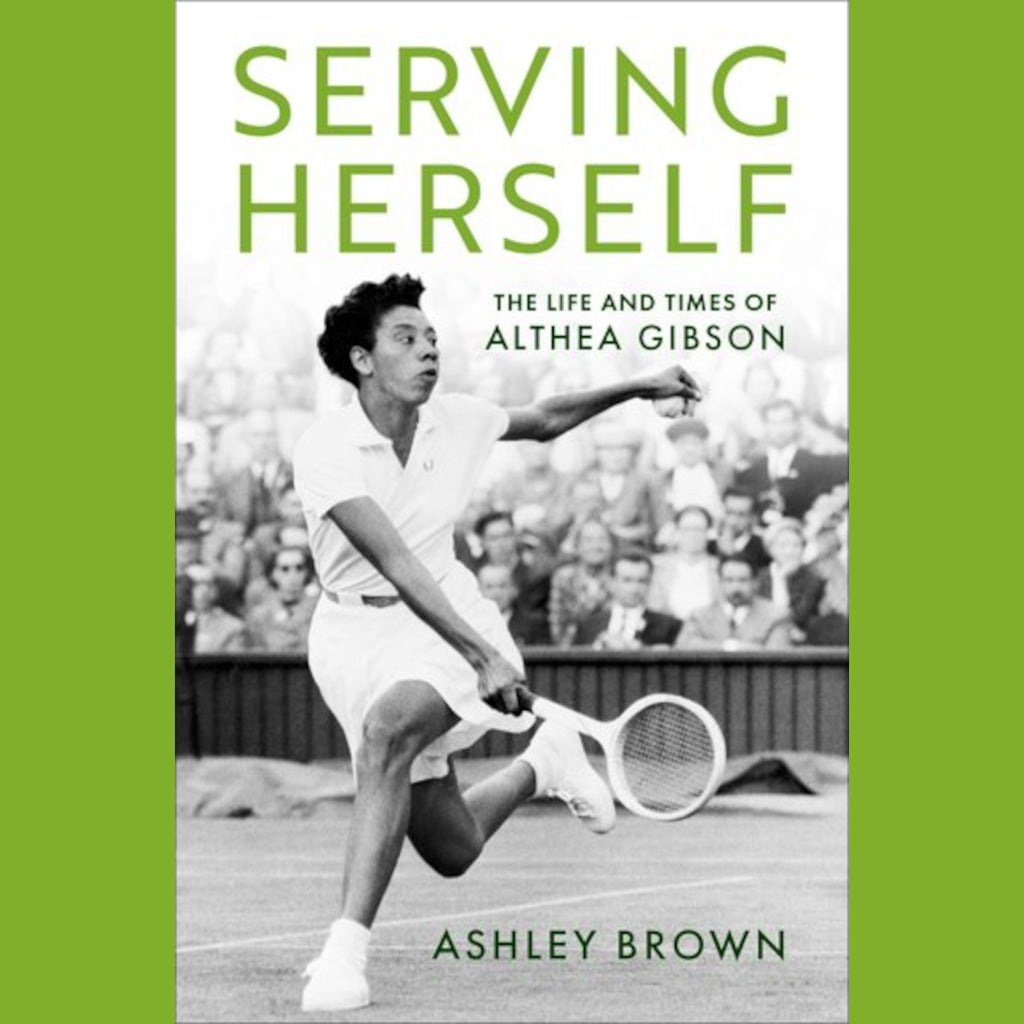 Serving Herself - The Life and Times of Althea Gibson
By Ashley Brown
Hardcover: 616 Pages
74 black and white illustrations
Approximately 6 1/8 X 9 1/4 inches
A compelling narrative of the trials and triumphs of tennis champion Althea Gibson, a key figure in the integration of American sports and, for a time, one of the most famous women in the world.

From her start playing paddle tennis on the streets of Harlem as a young teenager to her eleven Grand Slam tennis wins to her professional golf career, Althea Gibson became the most famous black sportswoman of the mid-twentieth century. In her unprecedented athletic career, she was the first African American to win titles at the French Open, Wimbledon, and the US Open.

In this comprehensive biography, Ashley Brown narrates the public career and private struggles of Althea Gibson (1927-2003). Based on extensive archival work and oral histories, Serving Herself sets Gibson's life and choices against the backdrop of the Great Migration, Jim Crow racism, the integration of American sports, the civil rights movement, the Cold War, and second-wave feminism. Throughout her life, Gibson continuously negotiated the expectations of her supporters and adversaries, including her patrons in the black-led American Tennis Association, the white-led United States Lawn Tennis Association, and the media, particularly the Black press and community's expectations that she selflessly serve as a representative of her race. An incredibly talented, ultra-competitive, and not always likable athlete, Gibson wanted to be treated as an individual first and foremost, not as a member of a specific race or gender. She was reluctant to speak openly about the indignities and prejudices she navigated as an African American woman, though she faced numerous institutional and societal barriers in achieving her goals. She frequently bucked conventional norms of femininity and put her career ahead of romantic relationships, making her personal life the subject of constant scrutiny and rumors. Despite her major wins and international recognition, including a ticker tape parade in New York City and the covers of Sports Illustrated and Time, Gibson endeavored to find commercial sponsorship and permanent economic stability. Committed to self-sufficiency, she pivoted from the elite amateur tennis circuit to State Department-sponsored goodwill tours, attempts to find success as a singer and Hollywood actress, the professional golf circuit, a tour with the Harlem Globetrotters and her own professional tennis tour, coaching, teaching children at tennis clinics, and a stint as New Jersey Athletics Commissioner. As she struggled to support herself in old age, she was left with disappointment, recounting her past achievements decades before female tennis players were able to garner substantial earnings.

A compelling life and times portrait, Serving Herself offers a revealing look at the rise and fall of a fiercely independent trailblazer who satisfied her own needs and simultaneously set a pathbreaking course for Black athletes.

The power of sports has many applications. Sports unite people, teach values, and inspire hope and pride. In the United States, sports have powered efforts to bring citizens together, shape them, and project a vision of what it means to be American. But sports convey power to athletes too—power to break social barriers and protest injustice. All American explores the power of sports both to embody our national ideals and challenge us to live up to them.


Materials exhibited in the All American - The power of Sports allow you to:

- See the original Title IX that prohibits sex discrimination in education (on limited display).

- Learn why Presidents pitch Opening Day baseballs and host champions at the White House, and see the New York Fire Department jacket worn by President Bush to pitch at Yankee Stadium after the attacks of 9/11.

- Glimpse rare footage of WWI soldiers trying out sports in training, on ships, and "over there."

- "Meet" the trailblazers--historic athletes who cleared roadblocks, shattered stereotypes, and paved the way for today's titans.

- See how the pandemic affected pro-baseball and diminished World Series players and crowds--in 1918!

- Learn how President Roosevelt "green lighted" professional baseball to lift morale during World War II.

- Discover how Indigenous students at Native American boarding schools and Japanese Americans incarcerated during World War II used sports to elevate morale and proclaim their identities.

- Learn the mystery of the recently discovered photos of a championship-winning Black football team at West Point in 1926--four decades before the school's team was integrated until 1966!

- View pages from boxer Jack Johnson's handwritten autobiography.

- Find out why Jim Thorpe's 1912 Olympic gold medals were revoked, and see the replica medals that were finally restored to his family in 1982.

- See historic sports trophies including Althea Gibson's 1958 Wimbledon trophy (on loan from the Smithsonian National Museum of American History) and the 1929 West Point Cavalry (Buffalo Soldiers) Football Championship Trophy (on loan courtesy of Ron Pomfrey) displayed for the first time.

- Read letters written by Jackie Robinson to promote civil rights.