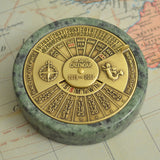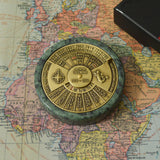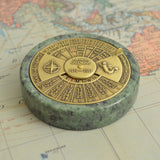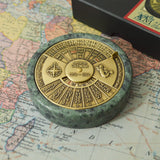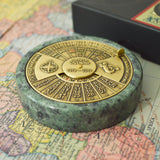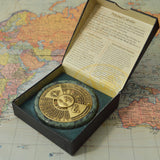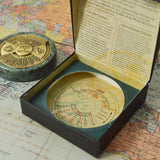 Marble Base Perpetual Calendar
Marble and brass
3 X 3/4 inches
"Dost thou love life? Then do not squander Time; for that's the Stuff Life is made of," wrote Benjamin Franklin, in Poor Richard's Almanack in 1746. Perhaps our perpetual calendar would have been the perfect gift for the founding father?

This early simple pocket calendar dates back some 500 years. To calculate the given date within a 50 year future time span, simply rotate the dial until the selected year lines up with the selected month. From there the date and day of the week can be located below.

One of the oldest scientific agencies in the U.S., the United States Naval Observatory in northwest Washington, D.C., is one of few pre-1900 astronomical observatories located in an urban area. The USNO operates the Master Clock, which is the underlying product for all of our precise time and time interval products. The timing reference produced by this timing ensemble is called UTC (USNO). This timing reference is mandated to be the precise time reference for all of the Department of Defense.