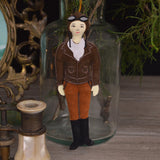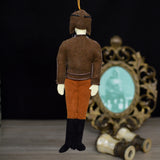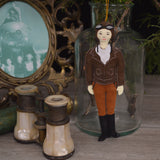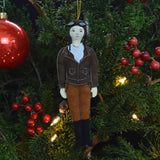 Amelia Earhart Ornament
National Archives Store Exclusive
Handmade
6 1/4 inches
Dressed in her flight suit, aviator Amelia Earhart is an inspirational figure who makes an elegant adornment. This handmade ornament makes a lovely addition to any collection, reminding us of the strong women who helped shape our nation's rich history.

In 1937, Amelia Earhart was a household name. She was known for her extraordinary achievements in aviation, had written best-selling books, and was an active supporter of the Equal Rights Amendment. At the height of her celebrity she vanished. Somewhere in the South Pacific, aboard the Lockheed Electra 10E airplane on which they were attempting to circumnavigate the globe, 39-year-old Amelia Earhart and flight navigator Fred Noonan disappeared on July 2, 1937.

In the holdings of the National Archives there are approximately 10 billion pages of textual records; 12 million maps, charts, and architectural and engineering drawings; 25 million still photographs and graphics; 24 million aerial photographs; 300,000 reels of motion picture film; 400,000 video and sound recordings; and 133 terabytes of electronic data. All of these materials are preserved because they are important to the workings of Government, have long-term research worth, or provide information of value to citizens.