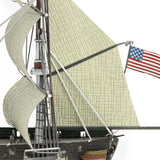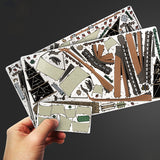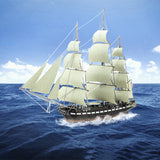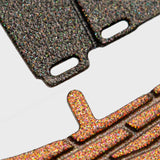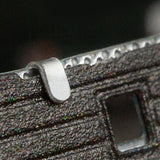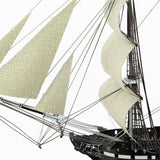 Model Kit USS Constitution - Old Ironsides
2 1/4 metal sheets
Challenging premium series
Illustrated instructions
Assembled size approximately 7 X 1 3/4 X 5 1/2 inches 
Ages 14 and up
A stunning and satisfying build, this model is a challenging piece to assemble.

The USS Constitution is the oldest commissioned warship still afloat. Constructed in Boston in 1797, she was one of the United States Navy's first man-of-war warships. Her exploits during the War of 1812 made her the stuff of legend and Americans fought to save the great ship from destruction. Today she is moored in Boston Harbor, a floating museum of naval history and an enduring tribute to the Age of Sail.

The act that authorized the construction of the first six frigates called for a halt in construction if peace with Algiers was secured. Such a peace came in early 1796--before the ships were completed--but President Washington urged continued congressional support. Congress approved the completion of three frigates, the U.S.S. United States, the U.S.S. Constellation, and the U.S.S. Constitution. The three vessels were completed and launched in 1797. The Department of War was responsible for their construction, and the Department of the Treasury was responsible for all related contracts and disbursements. Officials in those departments and others recommended to Congress that a separate naval department be created that would be staffed with persons competent in, and solely responsible for, naval affairs. At the same time, tensions with France prompted greater support for a strong navy. The act establishing the Department of the Navy was signed by President John Adams on April 30, 1798.

View the document on NARA's website.