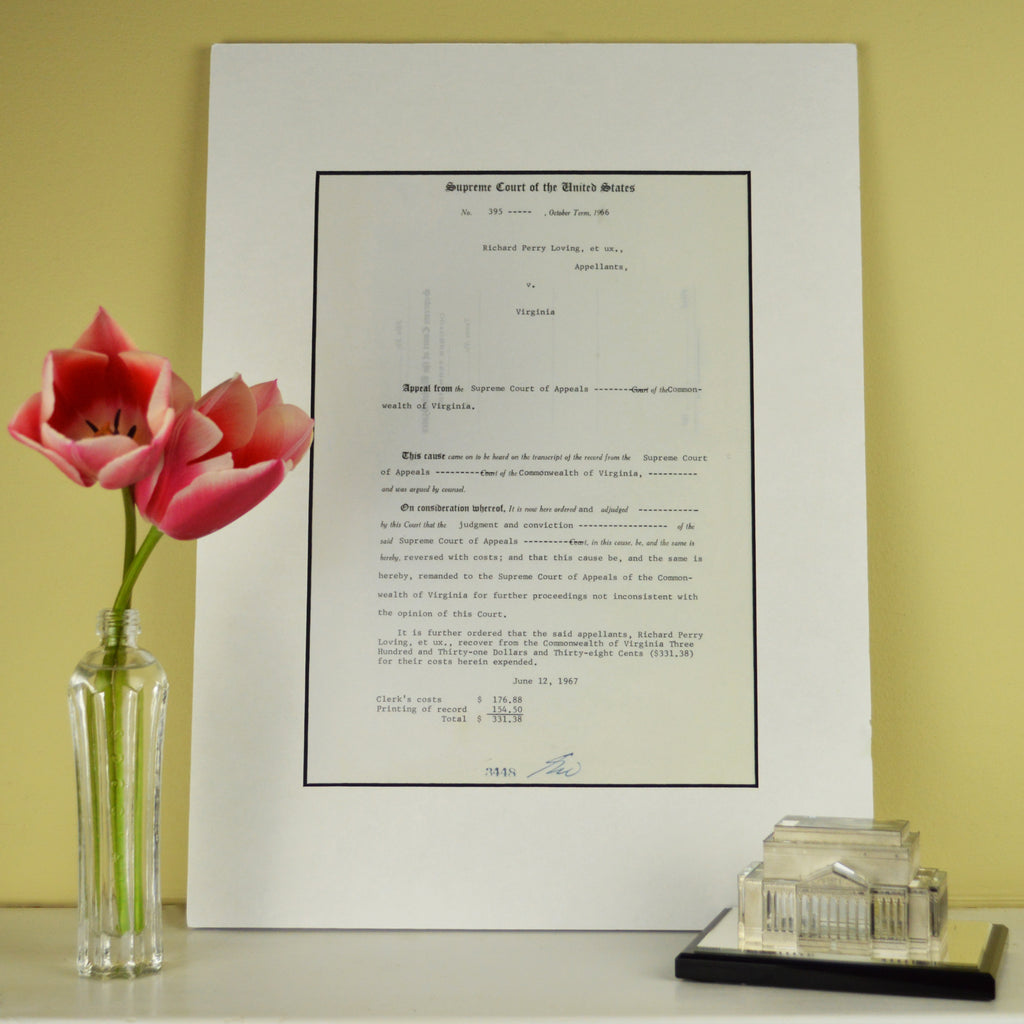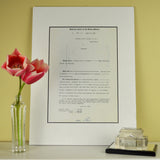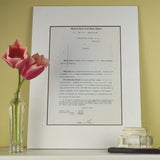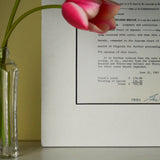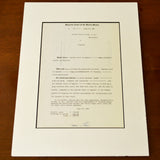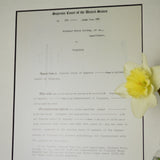 Lovings Ruling Matted Print
National Archives Store Exclusive
Custom hand made in the U.S.A.
11 X 14 inch museum quality matted print
In June 1958, Richard Loving, a white man, and Mildred Jeter, a black woman, quietly married in Washington, DC. They returned home to Virginia and woke up one morning with policemen in their bedroom. The Lovings were arrested for violating the Racial Integrity Act of 1924. They were found guilty and sentenced to one year in jail, or they could accept a plea bargain and leave Virginia. So they left. By 1963, and tired of visiting family and friends separately, they sought legal help. Attorneys Bernard S. Cohen and Philip J. Hirschkopf took their case to the Virginia Court of Appeals, where Judge Leon Bazile upheld the lower court's ruling.

This document from the Records of the Supreme Court of the United States is reproduced from the vast collection of records held in trust for the American people by the National Archives. It shows the unanimous ruling from the Supreme Court that Virginia's law violated the equal protection clause in the 14th amendment. Dated June 12, 1967 it awarded the Lovings $331.38 in court costs. The back of the original document was stamped when it was entered into the holdings at the National Archives, a detail we have retained on this replica, which is visible from the front.

The National Archives keeps only those Federal records that are judged to have continuing value—about 2 to 5 percent of those generated in any given year. By now, they add up to a formidable number, diverse in form as well as in content. There are approximately 10 billion pages of textual records; 12 million maps, charts, and architectural and engineering drawings; 25 million still photographs and graphics; 24 million aerial photographs; 300,000 reels of motion picture film; 400,000 video and sound recordings; and 133 terabytes of electronic data. All these materials are preserved because they are important to the workings of government, have long-term research worth, or provide information of value to citizens.