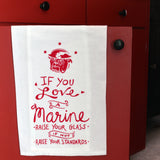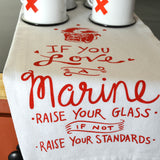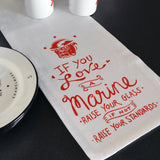 Marines Tea Towel
28 X 28 inches
100% cotton
Machine wash with like colors, gentle cycle, do not bleach, line dry
Semper Fidelis! Show your pride and support for your Marine with this fun tea towel, and bring some fun to drying the dishes!

On June 22, 1954, President Dwight D. Eisenhower signed an Executive Order approving the design of an official seal for the United States Marine Corps. The current emblem traces its roots to the designs and ornaments of early Continental Marines as well as British Royal Marines. The emblem took its present form in 1868. Before that time, many devices, ornaments, and distinguishing marks followed one another as official marks of the Corps.

Approved insignia designs and seals are held in trust by the National Archives in the Military holdings.