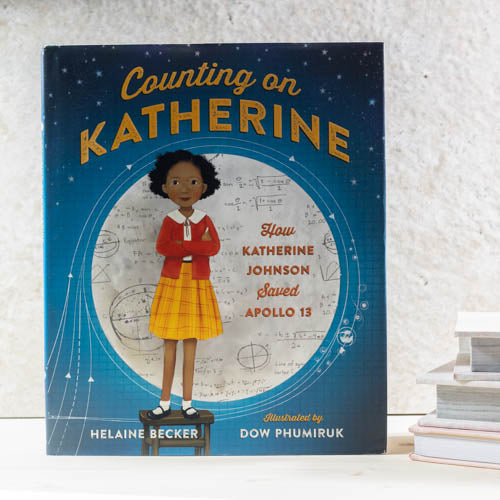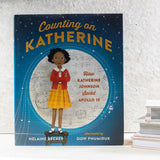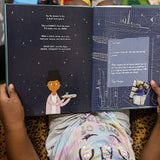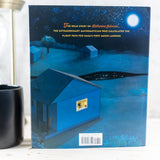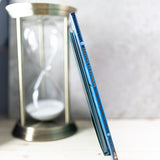 Counting on Katherine: How Katherine Johnson Saved Apollo 13
By Helaine Becker
Illustrated by Dow Phumiruk
Hardcover: 40 pages
Ages: 5-8
Grades: K-3
Counting on Katherine is the inspiring story of Katherine Johnson, an African-American mathematician who worked for NASA during the space race, and was depicted in the film Hidden Figures.

You've likely heard of the historic Apollo 13 moon landing. But do you know about the mathematical genius who made sure that Apollo 13 returned safely home?

As a child, Katherine Johnson loved to count. She counted the steps on the road, the number of dishes and spoons she washed in the kitchen sink, everything! Boundless, curious, and excited by calculations, young Katherine longed to know as much as she could about math, about the universe.

From Katherine's early beginnings as a gifted student to her heroic accomplishments as a prominent mathematician at NASA, Counting on Katherine is the story of a groundbreaking American woman who not only calculated the course of moon landings but, in turn, saved lives and made enormous contributions to history.

Liberty and justice for all is a defining tenet of the United States. The proclamation in the Declaration of Independence of a self-evident truth that all men are created equal reminds us that the struggle to define and protect every American's liberties has been ongoing and very complicated.

True equality is elusive for half of the population because of the omission of one simple amendment to the Constitution that ensures that the equality of women is explicit. Proposed in 1923, the Equal Rights Amendment, which would guarantee equal rights for women, remains unratified. Women's freedom to vote was won in 1919 after a hard-fought battle. Over 100 years on, women still persist in the fight for equality, while society's views have shifted and traditional gender roles have evolved and dissolved.