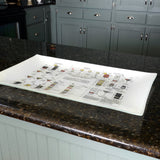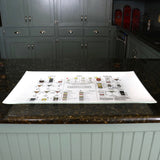 Cocktail Construction Large Glass Tray
National Archives Store Exclusive
Made in the U.S.A.
Glass
A great way to never forget how to properly mix these favorite classic drinks, this large glass Cocktail Construction Tray is perfect to serve your guests with style at your next dinner or party.

Forest Service Region 8 Engineer, Cleve Ketcham had a good sense of humor, and in 1974 drew up this detailed cocktail construction chart. As the Nation's recordkeeper, the National Archives holds in trust the records of all the branches of government, including the Department of Agriculture Forest Service. It seems that when the Forest Service records from 1974 were pulled for storage, Ketcham's joke was in the mix and someone must have thought that this record was just too good not to be preserved in the National Archives.

Cleve "Red" Ketcham passed away in 2005 but has since been commemorated in the National Museum of Forest Service History.