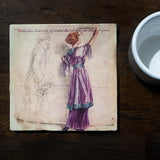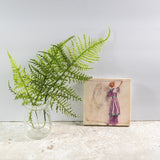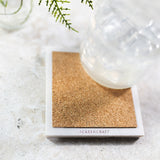 All Equal Tile Coaster
National Archives Store Exclusive
Made in Providence, Rhode Island, U.S.A.
4 inches square
100% authentic marble stone
Non-skid cork back
Gift boxed
Each stone is hand-selected for quality.
Ensure your tabletops don't need retouching: Protect them with this cork-backed coaster, featuring the July 1915 cover image from Life magazine.

With the ghost of a Founding Father standing by, an American woman retouches the Declaration of Independence by editing the famous line to read: "We hold these truths to be self evident, that all men and women are created equal."

Paul Stahr's Life magazine cover illustration from July 1915 portrays the radical changes that were taking place in American society a century ago, with women pushing for equal rights, particularly the right to vote in national elections. The persistent efforts of the women's suffrage movement finally brought about the Nineteenth Amendment to the United States Constitution in 1920.