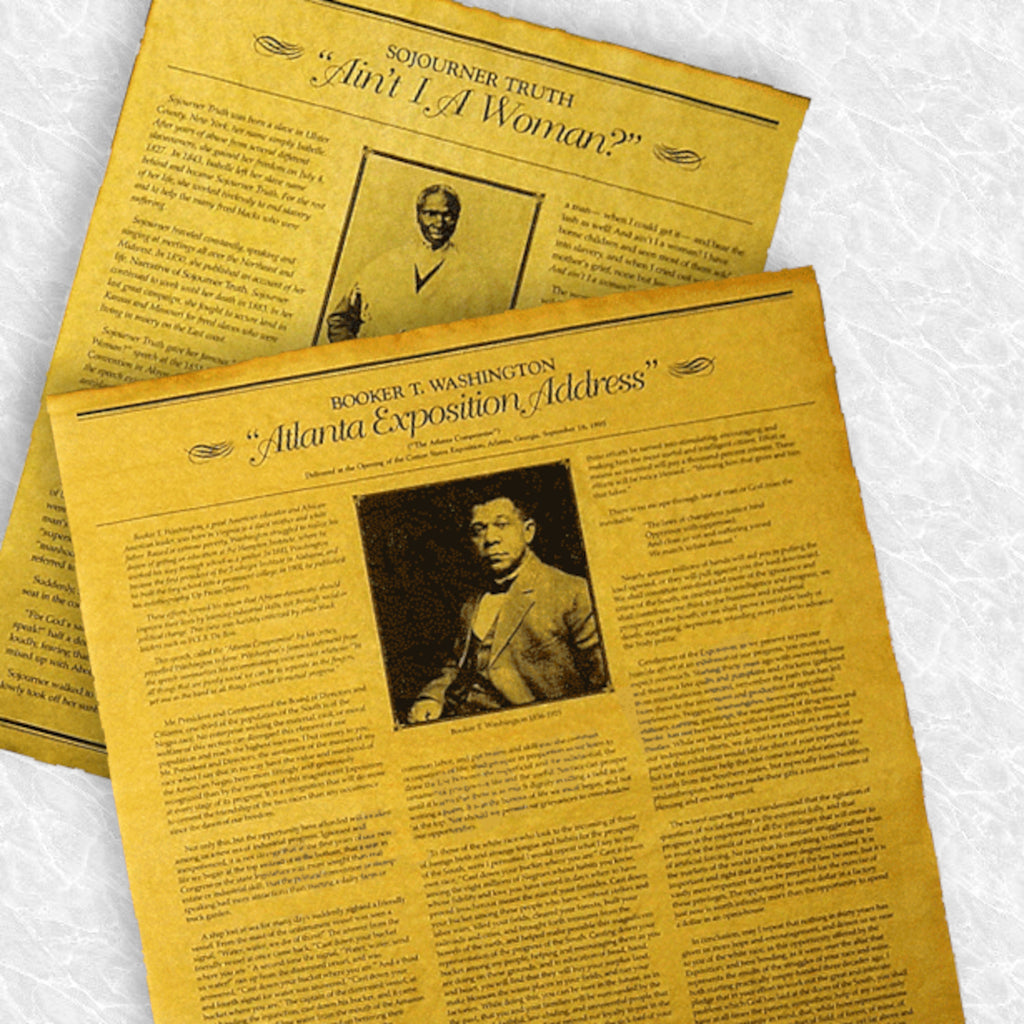 Sojourner Truth and Booker T. Washington Speech Transcripts
Set of 2
14 X 16 inches
Unframed
Parchment paper, unique in appearance, with crinkles and aging process characteristics. Please note that the parchment may darken over time. We recommend framing behind UV protective coated glass to avoid this discoloration
Made in small batches in Philadelphia, PA
The National Archives Store is pleased to offer this set of historically significant speeches by Sojourner Truth and Booker T. Washington. Printed in their entirety, the speeches were delivered more than 40 years apart.

At the 1851 Women's Rights Convention held in Akron, Ohio, Sojourner Truth presented what is now recognized as one of the most famous abolitionist and women's rights speeches in American history. In "Ain't I A Woman?" She spoke to the "racket" of all the talking about rights, that things were out of kilter with the "negroes of the South, and the women of the North" and that "the white men will be in a fix pretty soon."

On September 18, 1895, Booker T. Washington was selected to speak at the opening of the Cotton States and International Exposition in Atlanta, Georgia. This speech is known as the "Atlanta Compromise," and was the first speech delivered by an African American to a racially-mixed audience in the South. Washington suggested that African Americans should not agitate for political and social equality, but should instead work hard, earn respect and acquire vocational training in order to participate in the economic development of the South. By doing so, eventually, he stated, African Americans would gain the respect of white society and be granted the rights of full citizenship.

Born into slavery in 1797, Isabella Baumfree would become one of the most powerful advocates for human rights in the nineteenth century. Her early childhood was spent on a New York estate. Like other enslaved people, she experienced the miseries of being sold, and was cruelly beaten and mistreated. Around 1815 she fell in love with a fellow slave named Robert, but they were forced apart by Robert's master. Isabella was instead forced to marry a slave named Thomas, with whom she had five children.

Isabella ran away in 1827, after her master failed to honor his promise to free her or to uphold the New York Anti-Slavery Law. Setting the record straight, she later informed her master, "I did not run away, I walked away by daylight…." After experiencing a religious conversion, Isabella became an itinerant preacher and in 1843 changed her name to Sojourner Truth. During this period she became involved in the growing antislavery movement, and by the 1850s was also involved in the women's rights movement.

Booker Taliaferro Washington (1856 –1915) became the leading voice of the formerly enslaved who were newly oppressed by the discriminatory laws enacted in the post reconstruction Southern states in the late 19th and early 20th centuries. Between 1890 and 1915 Washington was the dominant leader in the US African-American community.

In 1895 his Atlanta Compromise called for avoiding confrontation over segregation and instead putting more reliance on long-term educational and economic advancement in the black community, with a goal of building the community's economic strength and pride by a focus on self-help and schooling.