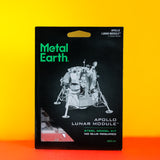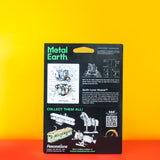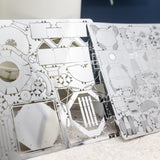 Model Kit Apollo Lunar Module
Two metal sheets
Illustrated instructions
Item does not come assembled
Ages 14 and up
The lunar landing flight research vehicle was part of the Project Apollo era effort to build a simulator for moon landings. The vehicles were used to study and analyze the piloting techniques that would be needed to fly and land the Apollo Lunar Module in the Moon's low gravity environment, against its virtually non-existent aerodynamic forces. With our detailed kit, you can build your own Apollo Lunar Module. Use the easy to follow instructions to pop out the pieces from the 4-inch square steel sheets, bend the tabs, and connect them at the attachment points, no glue required!

Starting with the records of the National Advisory Committee for Aeronautics, which was formed in 1915 to study problems of flight and to conduct research in aeronautics, the National Archives holds in trust the records of NASA and other records related to aeronautics, including the Wright brothers' patent for their flying machine.

The patent act of 1790 established the rules for submitting a patent application. Each application had to be submitted with specifications, a patent drawing, and if possible a model of the invention. Eventually, models were no longer required.

The National Archives holds nearly three million patent case files from 1836-1956.