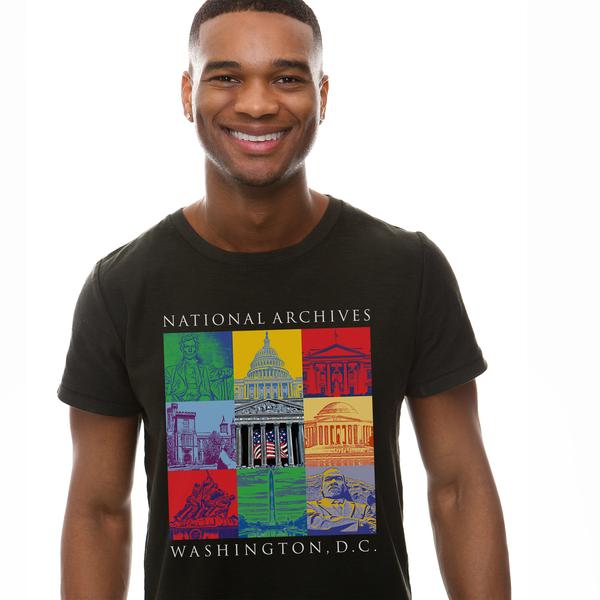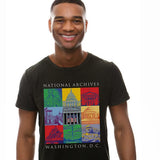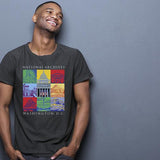 Capital Landmarks Art T-Shirt
National Archives Store Exclusive
Fabric Knit, Dyed, and Cut in USA, Sewn in Mexico
Printed in Virginia
100% cotton
Celebrate our national heritage with color and style and all its stately splendor, with this colorful pop art-inspired t-shirt featuring some of our nation's most famous landmarks. Our Capital Landmarks line of apparel, gifts, and home decor is a National Archives Exclusive.

Whether you live inside the beltway or you are a visitor coming to enjoy our nation's capital, no one can deny that our capital, the seat of our government, is beautiful. DC's national landmarks, memorials, and museums on the National Mall and throughout the city of Washington are filled with the history of our nation and who we are as a people.

Have you ever wondered why so many landmarks in Washington, DC, look like Greek and Roman temples? When forming the country, the Founders looked to Greco-Roman principles of justice, rule of law, process, and liberty as successful models of government. When plans were made to build the United States Capitol in 1793, Thomas Jefferson asked that Congress be housed in an ancient Roman temple, in the same neoclassical style he had used for his design of the Virginia State Capitol in Richmond in 1788. As can be seen in the National Archives building, the neoclassical style continued to be popular for government buildings and monuments well into the late 1930s. The National Archives preserves and protects some 28,000 plans of public buildings across the United States.

Capital Landmarks was designed by TwoBee LLC exclusively for the National Archives. TwoBee, located in Washington state, has been providing original art, design, and product development for zoos, aquariums, and museums since 2004.