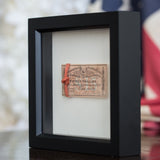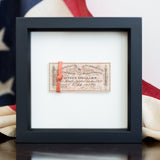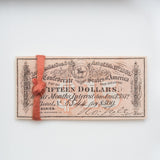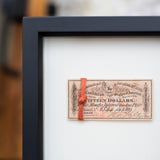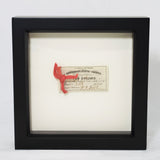 Authentic Red Tape in Shadow Box
National Archives Store Exclusive
Handcrafted in the U.S.A.
6 inches square
Authentic U.S. government red tape
This unique, handcrafted archival quality sealed box contains a one-of-a-kind genuine Civil War era redeemable bond coupon, which is hand-numbered and signed. Bound with authentic red tape, this conversation piece is a wonderful addition to your home or office or a thoughtful gift for a history buff.

The red tape used in this shadowbox comes from records held in the National Archives. As the Archives works to protect and preserve our nation's records, improvements to storage methods mean that documents are no longer tri-folded and tied together with red tape. Archivists are "cutting the red tape" and protecting our precious artifacts using the newest approved methods of preservation.

By the end of the American Civil War, the practice of binding important documents with red ribbon was common throughout the western world. Civil War veterans' records were bound in red ribbon, and the difficulty in obtaining those records to file pension claims led to the modern American use of the term "red tape."