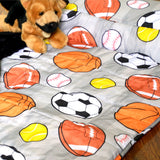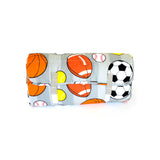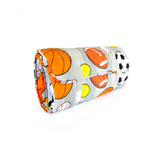 Sports Nap Mat
Attached blanket and pillow, no more worries about leaving something behind
Made of super-soft Velboa
Machine washable nap mat
Pillow can be removed before machine washing.
Straps can be used to carry the nap mat like a backpack.
Approximately 24 3/4 X 52 1/2 inches
This sports-themed nap mat by Stephen Joseph is perfect for the little sports fan to dream about winning the big game at day care, preschool, or kindergarten.

Join us for a special sleepover at the National Archives Museum in Washington, D.C., and spend the night next to America's most precious treasures: the Declaration of Independence, the Constitution, and the Bill of Rights.

During the event, kids ages 8-12 along with their adults will become superhero citizens, meet heroes from history, learn the power and responsibility of government and its citizens, sleep in the Rotunda, and make memories to last a lifetime. Guests also will be treated to movies in the museum's William G. McGowan Theater before turning in for the night, and will enjoy breakfast with pancakes flipped by Archivist of the United States David S. Ferriero the next morning. For more information, visit http://www.archivesfoundation.org/sleepover/.