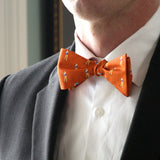 Slice Orange Bow Tie
Hand-printed
100% silk
Constructed by hand
A whimsical twist on the typical golf swing tie. Don't miss the little disgruntled golfer breaking his Callaway over his knee.

From William Taft, the 27th President, who introduced golf to the White House, through Barack Obama, golf has remained a popular pastime among Presidents. During the Great Depression, Herbert Hoover felt it was inappropriate to be seen on the golf course. George Bush respectfully curtailed his playing while troops were in Afghanistan and Iraq.

From golf-related patents to photographs of Presidents playing the sport, the National Archives holds many records related to the sport.