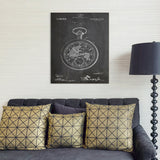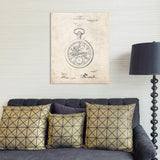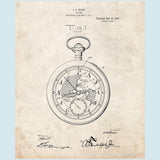 Pocket Watch Canvas Patent Print
Printed in the U.S.A. on canvas with archival ink
16 X 20 inch patent print
Restored and digitally enhanced while maintaining the integrity of the original document
Antiqued blackboard finish
No matter which time zone you live in, this 1914 pocket watch patent, beautifully printed on canvas with archival ink, is a timeless decoration for you office and home. It is finished with a distressed vintage effect bringing character and atmosphere.

"Be it known that I, John A Meroz, a citizen of the Republic of Switzerland, residing at Waltham, in the county of Middlesex and State of Massachusetts, have invented certain new and useful Improvements in Watches, of which the following is a specification. . . . This invention relates to watches designed more particularly as a novelty device to be used and sold at the proposed Panama EX-position, and one of the principal objects of the invention is to provide a watch in which a plurality of ships are shown at various times passing through the Panama Canal and making a trip from New York to San Francisco."--John A Meroz. Filed with the United States Patent and Trademark Office April 15,1914.

The patent act of 1790 established the rules for submitting a patent application. Each application had to be submitted with specifications, a patent drawing, and if possible a model of the invention. Eventually, models were no longer required.

The National Archives holds nearly three million patent case files from 1836-1956.