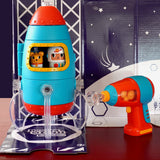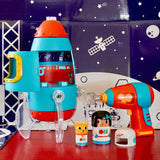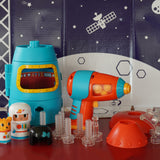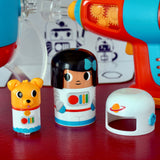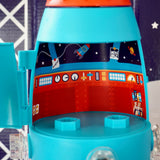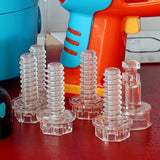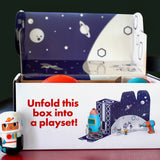 Design & Drill Bolt Buddies Rocket
Rocket measures: 9 ¾ X 5 ½ inches
Drill requires 3 X AAA batteries - not included
Ages 3 to 7
This rocket and drill set is perfect for kids who love space, rockets and construction play. The rocket and drill are ready for assembly, which promote hand-eye coordination and fine motor skills. The power drill really works and kids can see the gears turning inside. With packaging that doubles as a playset, children's imaginations are bound to be inspired as astronaut Buddy and her co-pilot space dog Rover prepare for liftoff.

In the early 20th century, it was common for children, some as young as four, to work in America's factories, mines, fields, canneries, and tenement sweatshops. In 1910, children under the age of 15 made up 18.4 percent of the nation's workforce. Outraged reformers began a campaign to end child labor in the United States. By 1915, several states had passed child labor laws. Congress twice enacted legislation that the Supreme Court ruled unconstitutional. A constitutional amendment restricting child labor passed Congress in 1924, but the necessary number of states failed to approve the amendment. In 1938, the Fair Labor Standards Act was passed, prohibiting most children under age 16 from working in industry. Agricultural and domestic labor were excluded.

More information about child labor can be found within records of rights, a National Archives permanent exhibit, following the history of the ongoing struggle of Americans to define, attain, and protect their rights.