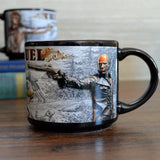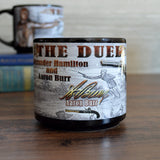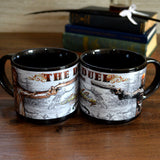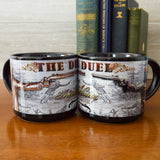 The Aaron Burr Duel Mug
National Archives Store Exclusive
15 oz.
Recalling the dramatic events from July 11, 1804, this ceramic mug reminds us of our history and of the infamous duel between Alexander Hamilton and Vice President Aaron Burr. Both fierce patriots, the politics of the newly minted United States of America put them at constant odds with each other. Now history buffs and Hamilton: An American Musical fans alike can commemorate and contemplate the fateful conflict that took place on the banks of the Hudson River, over coffee.

The National Archives, through its National Historical Publications and Records Commission (NHPRC), has entered into a cooperative agreement with the University of Virginia Press to create the Founders Online site and make freely available online the historical documents of the Founders of the United States of America.

Through the Founders Online website, you can read and search thousands of records from George Washington, Benjamin Franklin, Alexander Hamilton, John Adams, Thomas Jefferson, and James Madison and see firsthand the growth of democracy and the birth of the Republic.