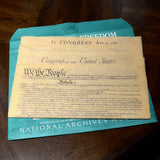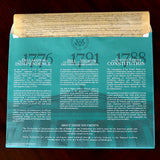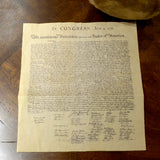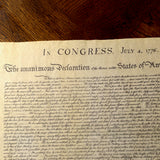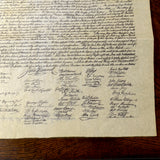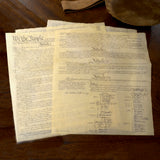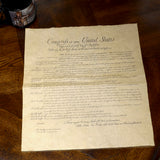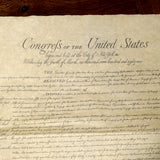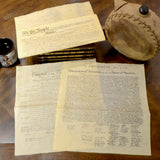 Charters of Freedom Bundle with Four-page U.S. Constitution in Envelope
Made in the U.S.A.
Parchment paper, unique in appearance, with crinkles and aging process characteristics. Please note that the parchment may darken over time. We recommend framing behind UV protective coated glass to avoid this discoloration
Documents: 15 3/4 X 13 3/4 inches
Envelope: 14 1/2 X 11 1/2 inches
These elegant small-scale facsimiles of the Charters of Freedom--the Declaration of Independence, the four-page U.S. Constitution, and the Bill of Rights--are offered to you in one bundle. They are perfect for educational purposes or to decorate your home or office. The replicas have been printed on antiqued parchment paper which has been through an aging process exclusive to the National Archives, which makes every document unique. They were proudly made in Philadelphia by a family-owned company.

You can purchase the full size replicas of Declaration of Independence, single page U.S. Constitution and the Bill of Rights together as a bundle here, and a bundled Charters of Freedom collection containing the four page U.S. Constitution is also available.

The original Charters of Freedom are on permanent display in the Rotunda at the National Archives Museum.