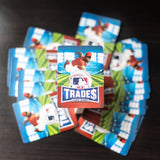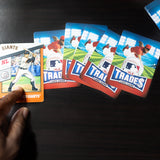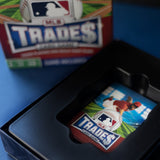 MLB Trades Card Game
Official MLB licensed product
96 cards
2-4 players
Age 8 and up
This fast-paced card game where players try to grab the best combination of top picks as they rush by, is a fun contest for ages eight and up. Score big by making combinations of player positions, teams, and divisions. The goal is to acquire the top pick before your opponent to build the higher-scoring team. See who can gather the most points and become the ultimate Trades winner!

Within the National Archives' holdings are numerous records related to sports. Sports have power. They unite people, teach values, and inspire hope and pride. In the United States, sports have powered efforts to bring citizens together, shape them, and project a vision of what it means to be American. But sports convey power to athletes too— power to break social barriers and protest injustice.

All American explores the power of sports to embody our national ideals and the power of athletes to challenge us to live up to them.

The exhibit will open at the National Archives in the Lawrence F. O'Brien Gallery in Washington, DC on Friday, September 16, 2022, and will be on display through Sunday, January 7, 2024.