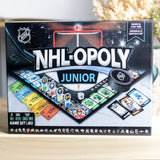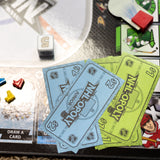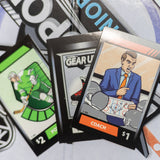 NHL-Opoly Junior
Official MLB licensed product
Face off! This opoly-style game lets players choose from all 31 NHL teams to create custom playing pieces using reusable, static-cling stickers. After peeling and sticking the logo stickers of their favorite teams, players are ready to hit the ice! As they make their way around the board, players collect key positions and equipment. To make groupings of the same color and earn more money, players can make trades during NHL Scouting Combine and the NHL Draft, while simultaneously trying to avoid the penalty box! The best players can live their dreams, and make it to the Stanley Cup!

Within the National Archives' holdings are numerous records related to sports. Sports have power. They unite people, teach values, and inspire hope and pride. In the United States, sports have powered efforts to bring citizens together, shape them, and project a vision of what it means to be American. But sports convey power to athletes too— power to break social barriers and protest injustice.

All American

explores the power of sports to embody our national ideals and the power of athletes to challenge us to live up to them.

The exhibit will open at the National Archives in the Lawrence F. O'Brien Gallery in Washington, DC on Friday, September 16, 2022, and will be on display through Sunday, January 7, 2024.